On February 1, 2021, Finance Minister Nirmala Sitharaman presented the Union Budget 2021-22 in the Parliament. The first paperless budget of the country, it shoulders an additional significance as it includes measures to recover from the havoc wreaked by the pandemic.
Here are some key figures.
The government proposes to spend Rs 34,83,236 crores in 2021-22.
Estimated fiscal deficit of 6.8% of GDP compared to last year's estimated deficit of 9.5%. The fiscal deficit is the difference between revenue receipts plus non-debt capital receipts and total expenditure. Essentially, it indicates how much a government needs to borrow (through the issue of securities and Treasury Bills) in order to fund public services and other benefits.
Capital expenditure targeted at Rs 5.54 lakh crore compared to 2020-21's Rs 4.39 lakh crore. Capital Expenditure is the money spent on acquiring assets such as land, buildings, machinery and investment in shares.
Disinvestment target set at Rs 1.75 lakh crore. Disinvestment is the sale of government assets, usually public sector undertakings, allowing more private participation.
Rs 35,000 crores additionally allocated for COVID-19 vaccines.
The following flowchart is a visual representation of the different areas addressed in the Union Budget 2021-22.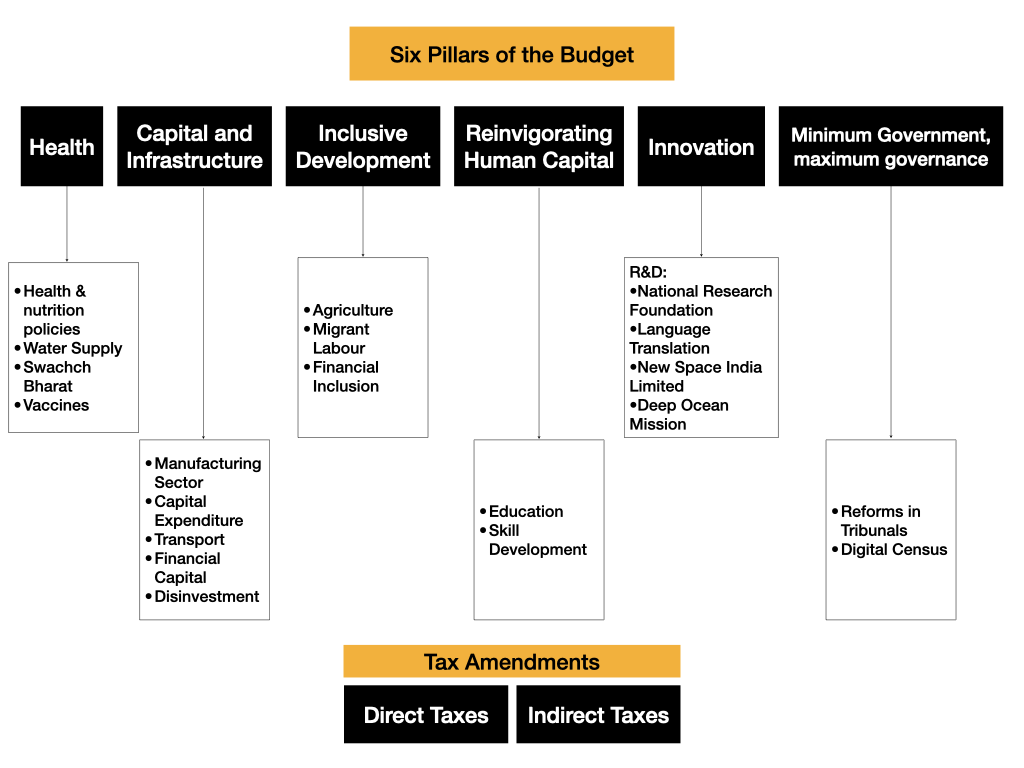 We've covered some sections that impact us as global learners and job seekers.
Education and Skill Development
Research and Development
Capital and Infrastructure
Health
Some Tax Amendments