If you'd been told a year ago that the commencement speech to the graduates of 2020 would be delivered by the CEO of Alphabet and Google, along with the former President of the United States, Barack Obama and former First Lady Michelle Obama, and that there'd be performances by Lady Gaga, Beyonce, and the South Korean band BTS – you may have pictured a glittering stage in a hall full of starry-eyed students ready to take on the world.
You may not, of course, have imagined this happening on You Tube. But, truth, as they say is stranger than fiction. It's exactly what happened.
The class of 2020 is graduating at a time when the world, as we know it, has changed. What we're facing today is a 180 degree flip from what was supposed to be. This generation was set to inherit a robust economy and an all-time low unemployment. Instead they are entering the worst job market since the Great Depression. And this is why it's important, more than ever, for the graduates to know what they want, stay focused on their goals, find the bright spots where the opportunities are (some industries are affected worse than the others) and strategize the best they can to navigate through this unenviable job market.
Also, before we look at how to make the best of a bad situation (and where some of the opportunities lie), here's a sliver of hope. According to LinkedIn's data on job postings, businesses in many parts of the world are trying hard to get back to normal. As economies have begun to open, hiring data during the last two weeks have been showing signs of recovery.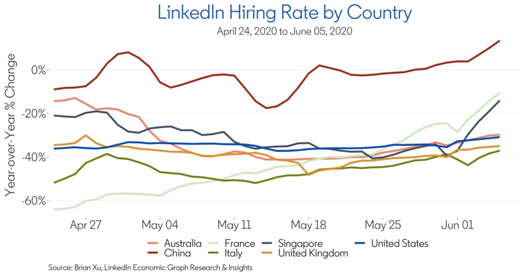 If the countries that are seeing a slight rise in hiring after reopening are any examples to go by, then we may see similar trends in elsewhere too – as economies open up and start to get back on their feet. Of course, the recovery will vary by country, but the signs are encouraging (we'll take any good news we get right now).
Last week we covered the areas of opportunities in a post-COVID world. Today we look at what a new graduate can do to make the best of the situation.