"The future", goes a famous saying, "is not what it used to be".
At no time has this been truer than it is today, when our world has changed dramatically and, probably, irreversibly. The past three months have redefined the way we live, work, learn and pretty much do anything.
Question is, where do we go from here? And what will the future bring, especially in terms of work and opportunities?
While it's hard to pin it down exactly (predictions, as COVID has cruelly shown us have a way of going awry) we can look at some trends to understand the general direction in which things are going.
We analyze it here.
First, where the opportunities will emerge…
Tech, the enabler
There's been a paradigm shift in the way we use technology, and what we use it for.  Some industries that will see (and are already seeing) large investment and growth opportunities are – research and development (R&D), information technology (IT), cloud-based computing, automation, artificial intelligence (AI) and Over The Top (OTT) Media Services.
Largely, the technology sector has been able to address the challenges that the spread of the virus posed. It's enabled us to make the transition from a physical world to an online one – be it essential services, access to financial support, online consultations with medical professionals, efficient work from home practices, and even exploring the use of digital printers in the creation of ventilators – fast-paced technological development has helped us overcome several day-to-day obstacles.
And this is just the beginning. Going forward the role of the technological sector will further strengthen, attracting young talent globally. This will also lead to the expansion of affiliated and highly integrated sectors – digi-healthcare, fintech and e-commerce, amongst others. Needless to add, in a post- COVID world, automation and AI will play a key role in enhancing business – adaptability, responsiveness and resilience – factors which have proven to be key to the survival of organizations. The long standing debate (read scepticism) around the adoption of technology and digitization now stands settled.
With companies optimizing work-from-home models as well as automating supply chains, there's a growing demand for secure software as well as a rising need for digital governance and cyber security practices to protect sensitive data. This demand can be met by professionals, especially in organizations where existing IT support has proven to be inadequate. This need for the regulation of sensitive information also arises with the growing use of AI in the healthcare sector, which is now seeing rapid innovation.
Healthcare, the saviour
If there's one industry that's seeing seismic shifts, it's healthcare.
The fact that FAMGA – Facebook, Amazon, Microsoft, Google and Apple – have dived in, all hands on deck, is a sign of what's to come. A report by CB Insights  on the entry of the Big Tech giants in healthcare looks at how each of these are innovating to provide solutions and gain a foothold in the industry. Facebook, for instance, is looking at how it can become an avenue for patients to gain access to healthcare – how WhatsApp, Facebook Messenger, and Groups could be leveraged to become the digital entry points for healthcare services.
Apple and Google have come together to bring contact tracing to smartphones. The tech behemoths have also struck deals with hospitals to gain access to millions of patient records, paving the way for innovations that could lead to clever algorithms which could radically transform diagnosis, search and treatments plans for millions of patients – there are issues of privacy, of course, and those will have to be addressed.
Point is, as these innovations kick in, opportunities will emerge.
Then there are the hospitals themselves, which are undergoing dramatic transformations – as they re-optimize designs and ideas to provide better (and safer) solutions. Operational efficiency will now demand optimization of both remote as well as on-site functions, reducing admissions into physical hospitals itself, but significantly increasing the need for manpower.
Take, for instance, eICU's, which will require constant monitoring of patients in critical conditions who remain at home via closely monitored video interfaces. This will increase the capacity of the hospitals to take on more patients, while also creating more jobs to fulfil the monitoring requirement. On the supply end, more sophisticated channels of production and distribution will emerge. Also, there'll be a surge in the production of precautionary equipment, like Personal Protective Equipment (PPE) and ventilators, the shortage of which was arguably one of our greatest weaknesses against the virus. This, in turn, will require a greater innovation in the materials used for these, given their detrimental impact on the environment.
The rise of fintech 
The smartphone revolution, apart from transforming the way we connect, has been a game changer for many businesses. One sector that's gained from the revolution is fintech. With smartphones in hand, physical transfers of money, microfinance opportunities and even portfolio management has become seamless.
As we rise from the crisis, there will be ample opportunities for surviving organisations to expand, but importantly, for the creation of niche firms that will cater to an entirely new demographic that now demands such convenience. Such rapid adoption of advanced technology brings with it the risk of technology induced unemployment. The sophisticated, brain-powered job creation may come at the cost of routine jobs. However, our progression towards the use of the various facets of technology has accelerated our acceptance for these elements, which will soon be hard to disintegrate from daily operations.
Who will face a slower recovery?
While online and digital will define how we live our lives post-COVID,  there will still exist a demand for services that can only be delivered in person – retail services, hospitality, manufacturing in certain sectors, to name a few. Generally risk averse and sceptical, humans will take time to avail such services, which themselves will need to make adjustments to their execution.
Here are some high-risk sectors that are subject to a slow recovery, which employ almost 37.5% of the workforce, per International Labour Organisation (ILO) estimates.
Retail and discretionary expenditure
It'll be a long while before people go back to physical retail outlets, at least in numbers as large as pre-COVID times (e-commerce has reduced this need). The steep decline in retail sales is a sign of the fact that the industry will probably not recover for a long time to come – as contact-less takes precedence over in-store experience.
For those businesses providing entertainment and recreational services, unless they are OTT or online, the future does not seem much brighter– when next, for instance, would you think of joining a crowded gym? Which next movie release will people clamour to watch? As long as answers to questions like these remain uncertain, providers of discretionary services (gyms, clubs, movie halls– essentially any activity or service that is not availed out of necessity), will continue to face uncertain times. The viability of such community experiences has already been put to the test, what remains to be seen is the resilience of their business models.
Manufacturing
Other than the mammoth task of re-configuring supply chains and sales channels, which in themselves are significant challenges requiring process changes that could substitute several jobs, there is also an accepted need to adopt new technology. Accepting these changes will lead to a dramatically different manufacturing sector, one with a far smaller demand for human labour. True, the development of such systems will not happen overnight, but even in the interim, companies continue to streamline production in line with the globally reducing demand for several commodities, putting jobs at risk even in the transition period.
Who will check into a hotel anytime soon?  
The indefinitely delayed family vacations, graduation trips, and destination weddings will come at a large cost to the tourism and hospitality industry. While envisioning a possible post- COVID travel boom, we take for granted the fact that consumer behaviour towards travel will remain unchanged. However, given that millions will lose their jobs, travel (even for those who'd want to risk it) will not be a priority. For those who would still be able to afford it, the idea of boarding a flight or staying in a hotel may not seem exactly appealing, as we emerge from a social-distanced world.
The hotels, airlines, and other travel services that do (somehow) survive this will be faced with the challenge of undertaking large amounts of investment in revolutionizing the way they operate – a time consuming and costly exercise. This will compound the effect of the losses that they have already sustained during the lock down period.
Take for example prevailing discussions around the digitisation of airports. Automation of processes from checking-in at the port of departure to baggage claim at your destination could enable flyers to complete vital flying procedures with minimal to no human contact. This process could eliminate countless jobs which include immigration and passport officers, personnel at security-check stations, duty-free sales representatives, airline representatives at baggage collection and claim counters, among others.
Office, what's that?
Commercial real estate may never be the same again. As companies go remote and work-from-home becomes the norm, the need for physical office space will fall sharply (it's already happened actually). We spoke about this in detail, in this article in April.
Apart from smaller organizations that have moved away from commercial real estate, big tech giants like Facebook and Twitter have also announced their plans for shifting their workforce into a remote system (others will probably follow soon). With high speed internet, software innovation and remarkable progress in the communication sector, working from home has now become not only easier, but it also being encouraged, as companies look to saving costs.
Here's a quick look at the sectors that are at risk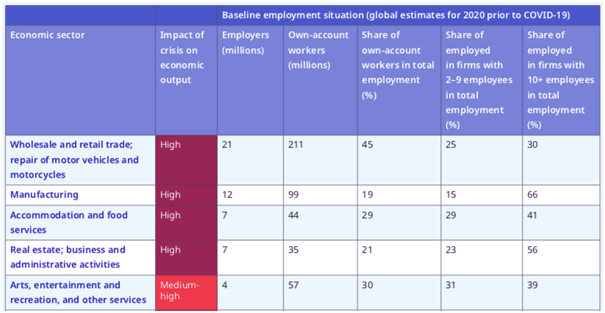 Source: ILO Monitor: COVID'19 and the World of Work, Third Edition

While, beyond a point, it's hard to pinpoint the exact threats to and opportunities for employment in a post-COVID'19 world, the way businesses and consumers have responded and adapted to their new circumstances gives a fair idea of which sectors stand to gain or lose. Tech, it is more than clear, what we need more than ever to significantly reduce the adverse impact caused by the virus. As for the path for recovery for disadvantaged sectors, we may be able to estimate the time they will take by simply answering a basic question – when next do we see ourselves availing services where our well-being may be at the mercy of others? Safe to say, not anytime soon.