When you're looking for a global education, staying on in the destination country is probably something you want to consider. It's one of the reasons why students leave their shores to study abroad – international work experience can put your career path of a totally different trajectory.
We take a look at some great study destinations where staying on is relatively easier to do.
The US is a preferred destination for studying abroad. However, the current scenario is a bit uncertain and no one can say what happen in a post-COVID world. For now, though, it is the country that still draws the maximum number of international students, for a host of reasons – it's got top-ranked universities and courses and great opportunities for post-study career growth. According to the 2018 NAFSA: Association of International Educators Report, one million+ international students studying in US contributed around $39 billion to the U.S. economy, supporting 455,622+ jobs for the 2017-2018 academic year. So yes, it's the place students want to go to.
Having said that, things are starting to change for the US.
President Trump is making immigration lot tougher – and his recent move to ban on all green cards has further fueled the idea that staying on after graduating is not going to be easy. The US already saw a declining interest in higher education amongst international students during 2018-19, like in previous three consecutive years. Another factor which acts as a deterrent are the high tuition fees charged by the US private institutions as compared to their English speaking counterparts, like Australia or Canada.
Here's what the comparison looks like: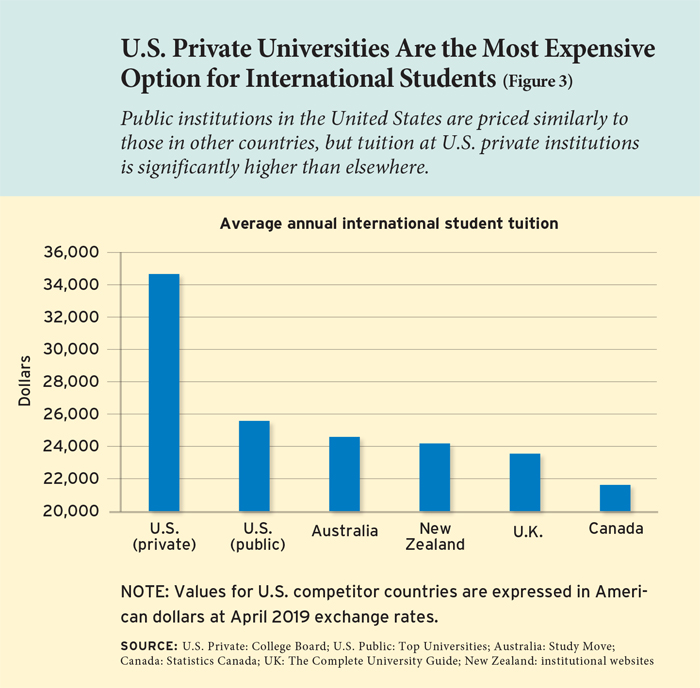 Let's look at some countries other than the US where students can stay on after finishing their higher education.
Project Atlas, an initiative of International Institute of Education that studies student mobility, academic migration and the internationalization of higher education, has listed the top study destinations for international students with relevant data.
Here are the Top 5 destinations where you can stay on after graduating

Although the UK is the next viable option, let's explore other countries which are becoming increasingly popular as top destinations based on their premium education standards, post-study work and immigration opportunities.